Section 1: Old Goshenhoppen Church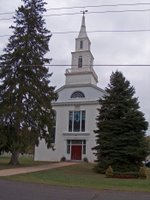 Christian Schneider was the father of Johann Jacob Schneider, who was the father of our ancestor Martin Snider and his siblings. We know that, because the marriage records at Old Goshenhoppen church, Woxall, tell us so. Recently, I received a copy of the marriage document from The Lutheran Archives Center at Philadelphia.
From the Parish Register, 1732-1828, translated by Karl Schild:
"The Book begins with an Inscription in Hebrew letters, the meaning of which is not altogether clear. It refers to Ezekiel and his record, then goes on: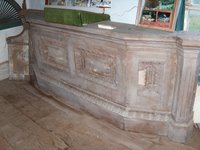 May He (God) lay bare (reveal) His sparing (pity) unto me with reference to the sheep of His pasture in a multitude of mercies …
Church Records of the Evangelical Lutheran Congregation at Old Goshenhoppen … Names of those joined in marriage … by me Lucas Raus."
"In 1751 A.D. the following were married: Johann Jacob Schneider, single, Reformed, son of Christian Schneider, and Maria Magdalena Lang, single, Luth., daughter of Elias Lang. Banns proclaimed: 1) Nov. 3 in Indianfield. 2) Nov. 10 in Toheka. Nov. 12, 1751, in the house of Elias Lang."
Also married on the same day in his father's home, was Georg Philip Lang, single, communicant; living with his Father Elias Lang at New Goshenhoppen; and Anna Catharina Ditloh, single, Reformed, living with her Father Abraham Ditloh at "Gross Schwam". Georg Philip Lang was Maria Magdalena Lang's brother.
"Michael Reiher, widower of Old Goshenhoppen, Ev. Luth. and Maria Christina, widowed Höpler, newcomer. Evang. living with Henrich Schmidt in "Fridrich" (Frederick) Township." [Michael Reiher was the father of Martin Reiher who married Anna Mary, sister of Jacob Schneider's wife, Maria Magdalena. Martin Reiher was one of the executor's of the 1764 will of Elias Lang.]
In 1744, the cornerstone for a new church was laid: the Old Goshenhoppen Church at Woxall mentioned above, where the marriage of Johann Jacob Schneider and Maria Magdalena Lang is recorded in the Parish Register of 1732-1828, naming Johann Jacob's father as "Christian Schneider".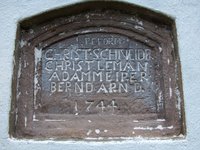 On the wall of the present church is a plaque, listing members of the 1744 building committee. For the Lutherans: Michael Reiher, mentioned above, Balsar Gerlach, Philip Gabel, and Conrad Schneider. For the Reformed: Christian Schneider, Christian Lehmann, Bernhard Arnd, and Adam Meirer.(Adam Meyer/Meirer took John/Johann Ziewer/Zieber's place.)