Section 2: Life in Philadelphia County

This is truly "His Story": the History of Christian Schneÿder. On the one hand, he did not leave many clues as to his identity. On the other hand, he left many. So, we'll begin with what we do know about Christian, the Schneÿder Patriarch.
We have been very fortunate, through the kindness of several researchers, in obtaining copies of signatures of Christian Schneÿder. The earliest is probably that of a 1742 road petition signed by various "inhabitants" of Upper Hanover Township, who felt the community needed a road that would extend from certain local mills and iron works to the "Great Road leading from Maxatawny and Oley" … and on to Philadelphia. A group of four "proper persons" were chosen from among the inhabitants and appointed by the court to bring this about. Among the names on the petition were: Henry Antes, John Nyce, Bernard Doderer, Thomas Mayberry, Christian Schneÿder, and Matthias Holleback. Christian Schneÿder's signature is immediately above that of Thomas Mayberry, and matches those we have seen elsewhere. Thomas Mayberry operated a forge at Green Lane, near Red Hill where St. Paul's Lutheran Church is situated.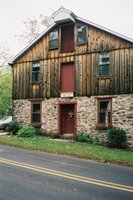 This signature, which only came to hand in the spring of 2008, places Christian Schneÿder in Upper Hanover Township. It's important to note that township borders and the names of communities were "flexible" in those days and changed frequently as did the spelling of surnames. So, it appears that the "Christian Sneider" who applied for a land warrant in Old Cowsehoppen in the County of Philadelphia, "now Marlborough Township" in August of 1737 and which became part of an eventual patent in 1749, was the same person who petitioned for the Upper Hanover road in 1742.
The patent Christian Snyder acquired in 1749 included land in Marlborough Township, and was adjacent to the land of Martin Terr [also spelled Derr] who was Elias Lang's brother-in-law. Not only that – one of the boundaries of Christian Snyder's patent was "the Great Road leading from Macungie to Philadelphia". That road also diagonally crossed the land of Elias Lang, Jacob Schneider's father-in-law.
Included in Christian Snyder's patent were 50 acres described on the 1739 Warrant Register as being in "Fredrick". This suggests the text we frequently see on the Internet called Landholders of Philadelphia County 1734, may refer to Christian Schneÿder, the inhabitant of Upper Hanover Township who signed a road petition five years later. Contemporary maps show the Upper Frederick Twp. boundary as being immediately below Green Lane.
One Internet land record describes an"Index of freeholders of the county outside the City of Philadelphia compiled in 1734 for the Proprietor of Pennsylvania, Thomas Penn – 'Christian Snyder, said to be settled on the Proprietor's Land. Frederick Twp. Number of acres not given' ".
And we know the signature of Christian Schneÿder matches that of the person who acted as administrator for various Upper Hanover neighbors during the 1740s and onward. He was an administrator with George Heise, Michael Reither/Reyer, Henry Dil s/o Michael Deihl, and John Doe.