Section 3: Looking back on Philadelphia County
When I visited S-E Pennsylvania with my family in 2005, I found a great little book in a store in downtown Philadelphia. Part of a Postcard History Project, Along the Perkiomen © 2005, features postcards from the first half of the 20th century, highlighting historical areas of the Perkiomen region. A sketch by author Jerry A. Chiccarine shows the relationship between these important places – significant for us in mapping the life and activities of Christian Schneÿder and his family. In the upper area, we see Red Hill where St. Paul's Lutheran church remains. A short distance south is Green Lane, and on page 97, we see a c. 1906 view of the site of Mayberry's original Green Lane Forge.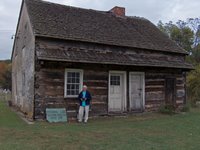 A contemporary road map highlights the relationship between Upper Frederick Twp. and Perkiomen Creek and a little north and to the right, we see the Old Sumneytown Pike – perhaps it's the stretch that spanned the farms of Elias Lang and Christian Schneÿder. In nearby Upper Salford Twp., we see Woxall, where the current Old Goshenhoppen church [UCC] is located.
 
This seems to be the appropriate place for another piece of news. On my recent trip to Pennsylvania with family members, we planned to visit the Schwenkfelder Library & Heritage Center at Pennsburg. In 2006, the Library provided information about a deed executed by Mary Catharine Long, the widow of Elias Long of Philadelphia Co. which put land in trust with Christian Snyder, Lewis Weiss and John Maxfield, to safeguard it for her children. It is noteworthy that Lewis Weiss and John Maxfield were business associates of Christian Schneÿder of Philadelphia, and were both involved in the settlement of the estate of Rev. G. M. Weiss.
I had heard from a colleague that the Schwenkfelder Library might have information regarding the location of land holdings of early settlers. This visit was a resounding success. Using the Library's drawings and detailed measurements, warrants and patents, created by volunteer Raymond Kline in the 1930s, and with the description I brought with me of Christian Schneÿder's 1749 Philadelphia County patent, Manny Bruck marked the boundaries of that patent onto a contemporary road map. We now knew exactly where Christian's land was located, and by extension, where he raised his family.
Here's how the patent appears on a map, with survey information from the original document:
 " … bearing date the Seventeenth day of August in the Year of Our Lord 1737 – there was surveyed and laid out unto Christian Snyder of the County of Philadelphia, a Certain Tract of Land Situate in Marlborough Township within the said County beginning at a post in a Line of Martin Terr's Land and from thence extending by the same and Simon Mey's Land, North East one hundred and eight perches to a post, thence along the Great Road leading from Macungie to Philadelphia …"  and so it goes, delineating the boundaries of Christian Schneÿder's land. It comprised three areas: #36, #42 and #61, and extended north of the modern Green Lane boundaries. The patent covered perhaps 1/3 of the area east beyond Green Lane and north almost to the intersection of Upper Ridge Rd. and the Geryville Pike.
It's clear where the "Great Road" cut off a corner of the tract and ran south towards Perkiomenville near Upper Ridge Road, just as it appears on the Land Office survey map. Because of copyright laws, we cannot reproduce the road map but will have to create our own sketch showing contemporary locations and the boundaries of Christian's 1749 patent. Martin Terr/Derr/Deer was of course Maria Magdalena Long's uncle, her mother's brother.
We can now understand why two of Jacob and Maria Magdalena's children were baptized at St. Paul's Lutheran Church in nearby Red Hill. And it's plain why Christian Schneider of Goshenhoppen moved from his original land in "Fredrick" closer to Green Lane and Mayberry's iron works. Perhaps he was going to work there in some capacity related to his business experience.
And this is why, as a Reformed Church neighbor, Christian was chosen to be a member of the Old Goshenhoppen Church building committee [see page 218, The Perkiomen Region Past and Present; Colonial Church Builders; Old Goshenhoppen Church] and why he contributed a gift to be used by both Lutheran and Reformed congregations [see page 87, Old Goshenhoppen Lutheran Church Records,Upper Salford Township, Montgomery County, Pennsylvania, "5. An alms-bag (Klingbeutel) was purchased for joint use, by Christian Schneider."
So, this is the Woxall church that recorded the marriage of Johann Jacob Schneider, Reformed, son of Christian Schneider, and Maria Magdalena Lang, Lutheran, daughter of Elias Lang of New Goshenhoppen, married in his home. 
Manny, my son-in-law drew in each stone and each tree used as markers on the patent. When we visited the land itself, to take photographs, we were particularly interested in the location of a "white oak" but felt it was too much to expect that it would still there after 259 years! But we did find lots of stones.